!...Purebred, AKC Registered, Affordable Yorkie pups in Townsend, Delaware...>
NUMBERS 6:24-26
REPENT JESUS IS COMING
1 THESSALONIANS 4:16-18
---


MY AKC MARKETPLACE
Middletown, DE 19709
302-465-2085 Call/Text
PupEPalace@aol.com
YorkieYouTube.com
PuppyTrainingTricks.com


By sending payment you certify you have read
health guarantee/contract,
Bringing Pup Home Page,
MUST HAVE ITEMS PAGE,
as well as this page!!!
(After you submit New Owner Questionnaire back
on this page at the bottom are payment methods).


Use New Owner Questionnaire QR code...


or

| | |
| --- | --- |
| | to fill out our |
NEW OWNER QUESTIONNAIRE!
QUESTIONNAIRE REQUIRED BEFORE PLACING DEPOSIT!!!


All pups come dewormed every 2 weeks starting at 2 weeks
old, vet checked with up to date puppy shots (if at least
2 pounds at 7-8 weeks old), 30 days Medical Insurance, health
guarantee, lifetime return policy & lifetime furbaby support!
Pups 30 days FREE medical insurance MUST BE ACTIVATED THE
DAY YOU PICK UP TO GET NO WAITING PERIOD & NO UP FRONT FEES!!!
Activation code comes in pups paperwork.

UPDATE: As of 10/20/2020 ALL of my adults are health & color tested!

All of MY pups are AKC or APRI registerable (at my discretion) for an additional fee.
AKC is American Kennel Club.
You can click HERE to visit AKC.org.
APRI is American Pet Registry Inc.
You can click HERE to visit APRPets.org.
AKC pups come with a free vet visit too.
AKC Pet Safety Book
Here's a video on the AKC application for pups that come with it since I
am not having face to face conversations with pup buyers since the virus.

My pups are on AKC Marketplace as well! :-)
Click HERE

Prices for pups are as follows:
UNLESS OTHERWISE STATED


Pet/NO PAPERS
Traditional -- $1200
Chocolate OR Parti OR Blonde -- $1300
Chocolate Parti OR Chocolate Blonde OR Blonde Parti -- $1400
Chocolate Blonde Parti -- $1500

Limited AKC OR FULL APRI
Pet Price PLUS $500


Unlimited AKC
Limited AKC Price PLUS $1000








Pet no papers is without their AKC or APRI papers.
Limited AKC Registration is without breeding or show rights.
Full APRI is with breeding rights.
Unlimited AKC Registration is with breeding and/or show rights.
You may buy a pup with no papers and get papers later, if pup is eligible for papers.
The limit on limited registration can be lifted at any time but only by me, the breeder.
NOTE: As of April 2020, AKC charges $25 to do this.
I do not give unlimited registration on female's unless they reach 5 pounds!
I do not give unlimited registration on male's unless they will be less than 7 pounds!

Occasionally I list pups for family and friends.
If their pups are going to be AKC registered they usually just use my prices above.
If their pups are not going to be registered the prices will be posted with the pup.
Prices of my family and friends dogs are not my determination.
If I am physically placing them from here (Pup E Palace) they will come with
everything my pups come with except in the case of the ones without AKC eligibility.

All of our pups have 5+ generation AKC pedigrees viewable right
here on our website on our Adult Yorkies Page under their parents.

All of our dogs are on Advocate!!!
Advocate® for Cats and Dogs kills fleas, prevents heartworm, hookworm, roundworm
and whipworm, and controls mange and lice with a single monthly application.
For a complete description...CLICK HERE to
learn more about Advocate for dogs and cats!
UPDATE 11/20/2022
I have some on hand and can apply to your pup
before he/she leaves for just $15 per pup.

All of our dogs are Health & Color Tested with Wisdom Panel!!!
I recently found out Wisdom Panel & Embark have breeder tests.
I will be using the Optimal-Selection breeder test, by Wisdom Panel, from now on.
If you want to get a Wisdom Panel go HERE!
Embark also tests! If you want an Embark go HERE!
Please be aware the breed tests are not an exact science like the health & color
tests. They look for "similiar" markers NOT exact like the health and color.
The companies themselves will tell you, if you have an AKC pedigree go by that!

Deposits are accepted.
The deposit for any pup is $200.
The first $200 of any payment is considered the deposit.
All deposits are NON REFUNDABLE!
All deposits are first come, first served!
Cash, Cashapp, Venmo, Zelle or Paypal are the
only methods of payment I accept for deposit.
My Cash tag is $WendyAbubakari SEND $205.54 (includes Cashapp fee).
My Venmo tag is @WendyAbubakari SEND $207.74 (includes Venmo fee).
My Zelle is my cell 302-465-2085 (as of right now no fee).
Paypal link is below or SEND $210.74 (includes PayPal fee) to AKCYorkiePups@aol.com.
I NO LONGER ACCEPT DEPOSITS ON UNBORN PUPS.
If you left a deposit on an unborn pup and then we end up not
having a pup for you or if you leave a deposit on a pup that is born
and something should happen to that pup while at Pup E Palace,
your deposit will be moved to the next available litter of your choice.
Once pups are born and I notify you that it is your turn to pick
you have 24 hours to respond if you want one or I will move onto the
next deposit and your deposit will move to the next available litter.
I reserve the right to have 1st pick of any litter at any time!

Final Payment:
Cash or Zelle are the ONLY 2 payment methods I accept at time of pick up or delivery.
The ONLY exception to this is if your pup is being shipped to you and you do not
have Zelle, then you will have to send Postal Money Orders prior to shipping day.
Regardless of payment method, if it is not cleared at time of pick up,
delivery or shipping day, pup will not be picked up, delivered or shipped.

If you need your pup shipped to you...
We have a flight nanny and a ground transporter.
I and/or they will call/text you prior to arrival
and make arrangements for meeting to get your pup.
Nanny/transporter run $200-$600 depending on your location
or nearest airport and the nanny/transporters availability.
We also deliver in person for $1.00 a mile (round
trip) within about 4 hours of Middletown, DE as well!

Pup E Palace under NO circumstances holds a pup without full
payment after the pup is 8 weeks old (deposit placed or not).
Any pups staying after 9 weeks old require a $20/day boarding fee.
Unless kept at Pup E Palace's request!

Pups are usually ready at 8 weeks old, but
some need to stay longer, at my discretion.
If shipping is needed pups can be shipped at 8 weeks old.

Yorkie pups 8 week weight times 3 and/or 12 week weight
times 2 is the best guess to Yorkie pups adult weight.
Weight is not guaranteed.
Weight Calculator I Found...It's Cool!


No pup, bought at Pup E Palace, is to be resold or given away
without notifying Pup E Palace first and giving Pup E Palace first
option to take/buy (for no more than purchase price) that pup back.
Any pup that Pup E Palace lets you rehome from your home you are required
to have the new owners fill in Pup E Palaces New Owner Questionnaire
and the new owners are to be notified if they can not keep the pup/dog
they are to notify Pup E Palace first and give Pup E Palace first option
to take/buy (for no more than purchase price) that pup back as well!
Transportation fees to or from you are your responsibility.
ANY situation where Pup E Palace will refund all or part of the
purchase price, Pup E Palace reserves the right to have 1 year to do so.
Pup E Palace does not knowingly place pups
with pet stores, brokers or puppy mills!!!




We have really exciting news!

Recognizing the importance of training and wanting to help you get started in
the right direction as quickly as possible, we have partnered with BAXTER & Bella
to provide discounted lifetime access to their exclusive MEMBERS ONLY online
puppy school, including all the training resources you will ever need, leading
to better animal ownership and the very best in canine companionship!

In order to save 25% instantly, remember to
use discount code AKCYORKIEPUPS at checkout.

My pup buyers I recommend getting membership at
least 4 weeks before you bring pup home. There are
courses for incoming pup preperation and the first
days home courses you can view prior to pick up. :-)
Also, I give an extended health guarantee if purchased!

If you bought a pup already I'd get membership asap!
Better late then never LOL Sorry my fault I just found it! :-/
I will still give extended health guarantee to those
who have already purchased as well, just get with me!






---
You must submit a NEW OWNER QUESTIONNAIRE before placing a deposit!
If you have not done so please click HERE to do so!
Thank you!

If you have already submitted a NEW OWNER QUESTIONNAIRE please continue...
---

If you checked to pay cash in person please Email Me a day and time you will be coming.
---
If you checked to pay via Zelle (NO FEE), send $200.00 to my cell 302-465-2085 via Zelle.
Please Email Me that you sent the deposit via Zelle and for which pup/dog.
---
If you checked to pay via Cash App ($5.04 fee) send $205.04 to my cash tag $WendyAbubakari.
Please Email Me that you sent the deposit via Cashapp.
---
If you checked to pay via Venmo ($10.74 fee) send $210.74 to my Venmo tag @AKCYorkiePups.
Please Email Me that you sent the deposit via Venmo.
---
If you checked to make an instant payment online via PayPal ($10.74 fee)
with a bank account, credit card or current Paypal balance, you can send $210.74
to AKCYorkiePups@aol.com or use the links below to send me the deposit.
YOU DO NOT NEED TO SIGN UP FOR PAYPAL TO SEND ME A PAYMENT IF YOU DO NOT WANT TO! :- ))
JUST CLICK THE LINK BELOW AND CLICK WHERE IT SAYS DO NOT HAVE A PAYPAL ACCOUNT. :- ))


Click below to send DEPOSIT via Paypal. Then
Email Me that you sent the deposit via Paypal..





---
---
Deposits are transferable from one pup to another, regardless of sex, as
long as the pup you are transferring to is available at the time of transfer.

Transaction Fees
Zelle (so far No Fee)
Cash App = 1.75% + $1.50 to transfer to my bank account ($5.04 fee to send $200.00)
Venmo = 3.49% + 49 cents + $3 t0 transfer to my bank account ($10.74 fee to send $200.00)
Paypal = 3.49% + 49 cents + $3 to transfer to my bank account ($10.74 for $200.00)

I DO NOT HOLD PUPS AT ANY TIME FOR
ANY REASON WITHOUT A FULL DEPOSIT!

I DO NOT HOLD PUPS AFTER 8
WEEKS OLD UNLESS PAID IN FULL!

PUPS STAYING PAST 9 WEEKS OLD
REQUIRE A $20/DAY BOARDING FEE

AND

NO PUP WILL LEAVE PUP E PALACE UNTIL PAID
IN FULL INCLUDING ANY BOARDING FEES DUE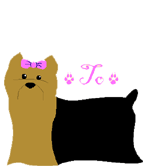 Website designed and created by Wendy Abubakari
We reserve the right to add, change, delete any
part of this website at anytime without notice!
websites by Wendy

Duplication of any part of this website without permission is prohibited.
Copyright © 2003 Pup E Palace